New features for IRRIOTs wireless irrigation automation
IRRIOT continues to develop new functions to maintain the position as leaders in wireless precision irrigation automation. Coming up the season 2022 are the following new and improved functions:
Irrigation Overview
The long awaited irrigation overview feature allows us to inspect and interact with the schedules in a convenient manner. It helps find the service windows, as well as assess the gaps in irrigation to make seasonal adjustments. It makes it quick and easy to make sure no valve is omitted and all valves total the right amount of time. All in an intuitive, graphical way.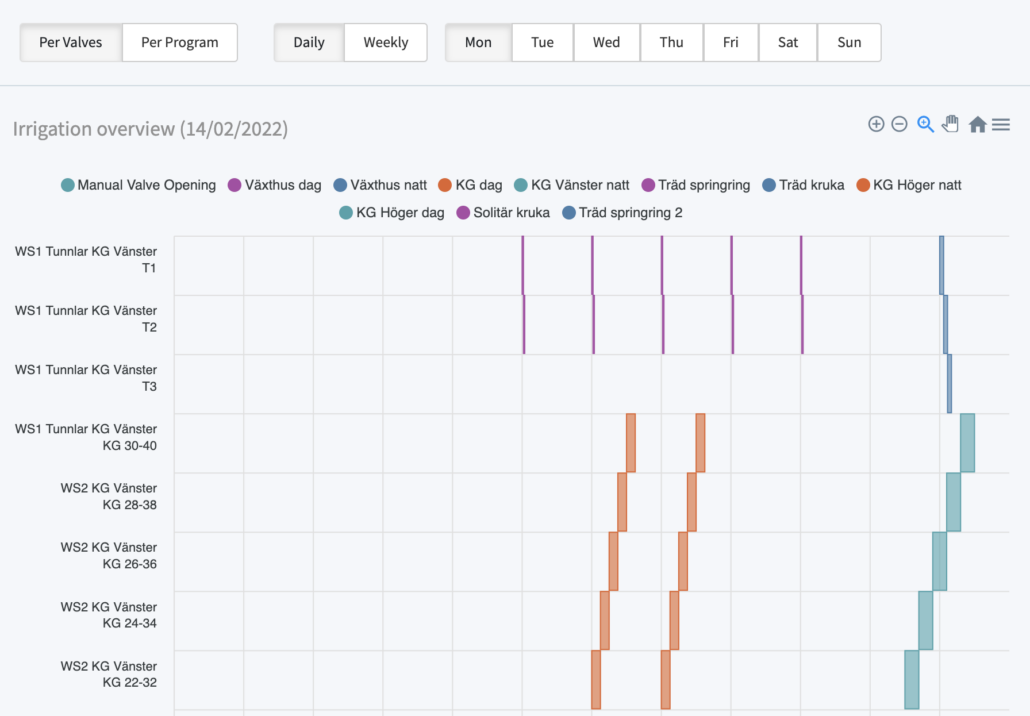 Favorite Sensors
IRRIOT continues to integrate all thinkable sensors into the irrigation logic in order to minimize water waste. As more and more sensors appear in the system it becomes easy to get lost in all the sensors connected out in the field. To improve the visibility of the key sensor reading we implemented the Favorite Sensor feature. By simply clicking on the star beside the desired sensor you pin it to the top of the dashboard. So the first thing you see when you open the app are the critical sensors.

On-Demand Irrigation Programs
This feature has received a major overhaul. Even before you could configure valves to be directly controlled by any sensor in the system. The scope of the application would include frost protection, leave cooling, fog and other uses, like automatic tank/pond filling. The new On-Demand is a more advanced and flexible configuration, similar to a program. It can be paused, activated on different weekdays and time windows.
Port Extensions
For a long time we considered extending our system with optional blocks, e.g. fertilization control. We take the first step, and now we're releasing the new extension – an 8-output Relay board. The extension board is simply inserted in the Base Unit, and the external outputs appear automatically in the system, in all respects similar to ordinary wireless valves. The external outputs can be configured to drive pumps, wired 24VAC valves or activate fertilization modules. Every Base Unit can accommodate 2 such boards, making up to 16 ports available for external control.
Irrigation Conditions
The irrigation conditions that we released the last season for field trials illustrated how easy it is to save water without any harm to the plants. The development is now finalized. The irrigation conditions can be configured and monitored directly from the app.
Generation of Reports (ongoing)
One of the requested features that we agreed to implement is the generation of reports. The watering reports is the best way of irrigation accountability.
Map feature (ongoing)
.
Another bright addition to IRRIOT web interface. The user can chose to pick the valve in the map instead of the traditional list. It provides a way to assess the situation at a glance over the large area.