First prototype installed and evaluated – interview with Bosse Rappne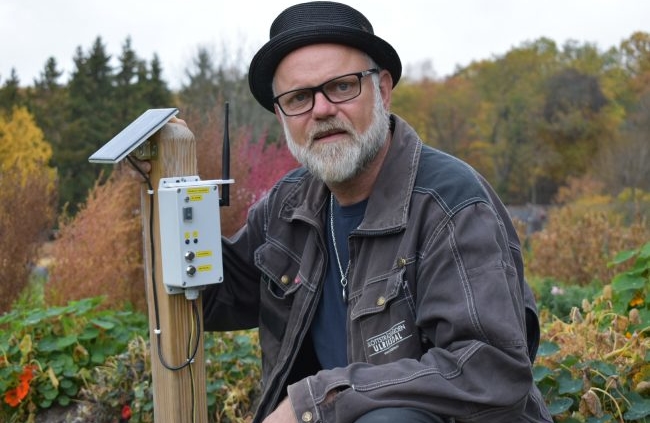 Slottsträdgården Ulriksdal (Castle Garden Ulriksdal), with farmland of about a hectare, was the first farm where IRRIOT AB installed their precision irrigation system. In 2018, we let the system of nine wireless solenoid valves powered by solar panels handle the irrigation, around the clock for five months, with exceptionally good results.
– The system of wireless solenoid valves has worked perfectly, without a single shutdown. It has been a great success. Especially during the hot summer, the system was extremely beneficial from several perspectives, says Bosse Rappne, CEO at Slottsträdgården Ulriksdal, when we asked for a comment and review of the first season of the irrigation system.
– We have been able to program in advance for watering automatically at night and thus saved an estimated 30-35 percent of the total amount of water due to minimizing evaporation. At the same time, we have saved hundreds of man-hours and money, says Bosse Rappne, and notes that evenly distributed irrigation, in turn, has generated high-quality products, which meant good sales.
One of the major advantages has been that many plants grown on the fields became big and loose. And if you want to have water in depth, irrigation is required for a couple of hours with water sprinklers. However, a lot of water often ends up on the leaves, which causes the plants to lean. With IRRIOT's solution, you have been able to irrigate for half an hour at Slottsträdgården Ulriksdal, returned an hour later and thus eliminating lean crops.
The prototype system on Slottsträdgården Ulriksdal consisted of nine irrigation valves programmed in advance. This means that at the field in the Slottsträdgården Ulriksdal it is possible to water from 45 different places, with 2-5 sprinklers connected to every valve.
– As always, when it comes to new technology, you are initially uncertain. But it has been great to be able to log on to your computer, sit home at night and see that everything works. For example, you eliminate the human factor to forget to close the valves. And soon you can check everything from your mobile phone, continues Bosse Rappne, emphasizing flexibility.
– Since valves are solar-powered means that there are no electricity cables. If you want to change anything in the irrigation system and have valves in other places, it's easy because it's wireless. A simple hose could be put on the ground and connected to the valves for better distribution. The solenoid valves you can put wherever you want. The only need is to have a water source in place.
Anything else worth mentioning?
– We know that monocultures on larger surfaces destroy our soils in the long run. Vegetables and our best soils do not need to be close to the property. They can be located on fields further away since this system works on several kilometers of distance. Also, it is very easy to remove the solenoid valves and quickly store it for winter, says Bosse Rappne and concludes;
– Watering a farm or garden is alpha and omega that requires a lot of knowledge and I would like to have full control myself. Being able to water crops evenly and at any time of the day or night, at several kilometers away, is a good investment. This is definitely the future.
https://www.irriot.com/wp-content/uploads/2020/05/DSC_0016_1-650x433-1.jpg
433
650
Johan Wendt
https://www.irriot.com/new/wp-content/uploads/2020/05/Artboard-1@4x-300x129.png
Johan Wendt
2018-09-06 10:14:02
2021-10-18 11:48:15
First prototype installed and evaluated – interview with Bosse Rappne